Safety and sanitation are required in the process of food and drug production, so there is a high requirement for fittings. And sanitary fitting meets such demand, which not only ensures the hygiene and cleanliness of raw materials but also doesn't easily stick the raw materials to the inner wall of the fitting in the process of use. Generally speaking, the raw material for the sanitary fitting is stainless steel. The stainless steel sanitary fitting is an important material used in industry, which has excellent corrosion resistance and heat resistance and is well received by the market.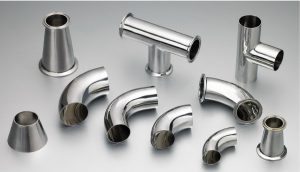 Stainless steel sanitary fitting is a kind of hollow long circular steel, which is widely used in petroleum, chemical industry, medical treatment, food, light industry, mechanical instrument, and other industrial pipeline and mechanical structural parts. In addition, it is light in weight with the same bending and torsional strength, so it is widely used in the manufacturing of mechanical parts and engineering structures, as well as in the production of various conventional weapons, barrels, shells, and so on.
Stainless steel pipe fittings, also known as stainless steel seamless pipe, are made of the ingot or solid tube billet via perforation, and then by hot rolling, cold rolling, or cold drawing, and the specification of seamless steel pipe is expressed by the outside diameter mm thickness.
Stainless steel sanitary fittings can be coated with paint or non-oxidizable metals (e.g., zinc, nickel, and chromium) to ensure a carbon surface. However, as is known, this protection is only a thin film. If the protective layer is damaged, the steel below begins to rust.
Stainless steel sanitary fittings can be divided into stainless steel seamless pipe and stainless steel welded pipe (with slit pipe); according to the different manufacturing processes, a stainless steel fitting can be divided into hot rolling, extrusion, cold drawing, and cold rolling; it can also be divided into the circular tube and shaped tube according to the shape of the section. Circular steel pipe is widely used in stainless steel fittings, but there are some square, rectangle, semicircle, hexagon, equilateral triangle, octagons, and other shaped stainless steel pipes.
Adamantvalves supplies all kinds of high-quality valves such as sanitary butterfly valves, sanitary ball valves, sanitary diaphragm valves, sanitary shut off valve, sanitary fitting, etc. Please visit http://www.adamantvalves.com/ for more information.