Sanitary fittings are a general term and are used in many sectors and projects. To be concise, we can say that sanitary adjustment refers to any component to join the plumbing or sanitary tubes. Any plumbing application, where sanitation and cleanliness are key requirements, is considered a sanitary piping system in general. These connections are easy to find in pharmaceutical companies, food processors and many other factories where consumer goods are processed. The production of sensitive and reactive chemicals can lead to a threat of a contaminating environment. Manufacturers of this type of product also use sanitary fittings to avoid any risk of safety.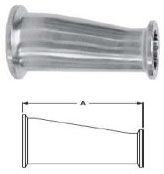 We need to use these fittings in a number of locations and in any plumbing application. For example, if you want to join two pipes, you must use a sanitary fitting. Similarly, its existence is essential when a pipe must be connected to power the drum. The point at which users receive gas, water or any other food product also requires adjustment. You must also use an elbow or tee depending on the number of pipes that meet. In addition, there are also valves that are used to regulate or stop the flow of liquid or gas passing through the system.
There are many configurations and designs available on the market. However, three basic operating principles are more commonly used to design sanitary fittings. The former is suitable for butt welding. These connections are abutted along the adjacent pipe sections and a durable connection is formed by welding. The second type of fitting is mounted inside the pipe and a gasket is used to secure it. The third design has a special feature. This gives you the flexibility to replace and remove frequently. An easy-to-use clamping mechanism makes this flexibility possible. When we refer to the material used in the manufacture of these fittings, stainless steel is widely used. The advantage of stainless steel is that it is easy to clean its surface because of the softness. It is a safe and useful alternative for sanitary applications. Its anti-microbial quality and its resistance to corrosion even in extreme conditions make it a choice of metal for sanitary purposes.