The purpose of the check valve is to prevent backflow of the medium in the line. Opening and closing parts rely on by the media flow and power, so as to prevent the media back.
Sanitary check valve is automatic valve type, mainly for medium one-way flow of the pipeline, only to allow the media to flow in one direction to prevent accidents.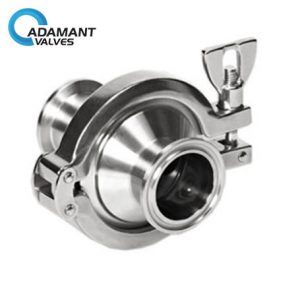 When installed check valve, we should pay attention to the following things:
1, do not make in the pipeline:
Sanitary check valve withstand the weight of large, check valve should be independent support, so that the pressure generated by the pipe system.
2, the installation of media flow direction should pay attention to the direction of the arrow with the ball body.
3, vertical lift valve: check valve should be installed in the vertical pipe.
4, lift the level of flap: ⑴ check valve should be installed in the horizontal pipe. Nominal pressure or pressure level: PN1.0-16.0MPa, ANSI CLASS 150-900, JIS10-20K Nominal diameter or diameter: DN15 ~ 900, NPS 1/4 ~ 36 Connection: flange, butt welding, thread, bearing (304L), CF8M (316), CF3M (316L), and Ti are recommended for the following applications: Temperature range: -196 ℃ ~ 540 ℃ Body material: WCB, ZG1Cr18Ni9Ti, ZG1Cr18Ni12Mo2Ti, CF8 (304) Choose different materials, can be applied to water, steam, oil, nitric acid, acetic acid, oxidizing media, urea and other media.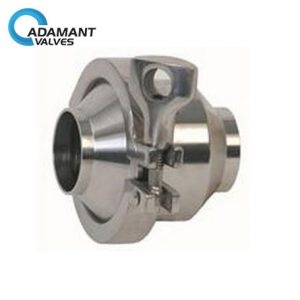 Structure and use:
The valve has the valve body, valve seat, fluid, valve, bearing and spring and other components. The internal flow passage adopts the streamline design, the pressure loss is small, the valve opening and closing stroke is very short, the pump can be shut down quickly when the pump stops, preventing the huge water hammer sound, forming the mute effect. The valve is mainly used for water supply, drainage, fire, HVAC system can be installed at the pump outlet, to prevent the pump damage with media backwater and water hammer.
Ordering Information:
⑴ Check the product model and name
⑵ Check the nominal diameter DN
⑶ Check the rated flow coefficient KV
⑷ Check the nominal pressure and differential pressure
⑸ Check valve body and valve assembly material
⑹ Valve flow characteristics
⑺ check valve for temperature
⑻ check valve power supply voltage and control signals
⑼ check whether the check valve with accessories.