It is estimated that the North American sanitary valve market will reach approximately $ 350 million in revenue in 2020. A number of factors are driving this market in a positive direction, including some of the previously mentioned industry factors. the food and beverage manufacturing process also helps drive the market.
Many producers in the dairy industry have moved to continuous production and are implementing automation in the facilities. Moving towards continuous production aims to reduce downtime and increase productivity which helps maintain a competitive edge and profit margins. Valves are an essential element in determining the effectiveness of plants achieving such goals
The sanitary valve market in the food and beverage industry is growing quite well and will help support the demand for sanitary valves, as shown in the table above. The increased emphasis on safety and manufacturing ensuring preventive measures will also provide support.
For example, the dairy industry manages some of the most perishable food products and follows the standards of the Pasteurized Milk Order (CPM). This standard guarantees the quality of milk supply and is a recommended certification for equipment manufacturers. Other applications for sanitary valves In this industry, there are secondary processes for the production of steam, clean water, and CIP / SIP process fluids.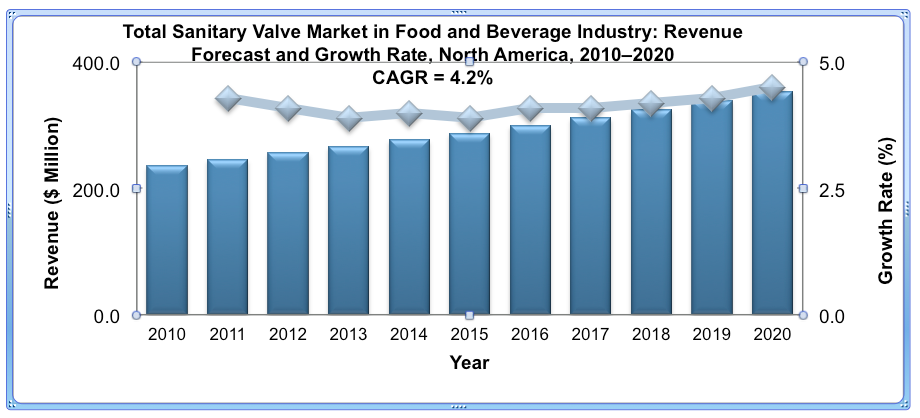 Isolation applications in this sector offer the possibility of ball and butterfly valves. Ball valves offer tight stop benefits and help prevent leaks. Sanitary ball valves with minimal dead zones reduce the fluids from stagnating and reducing bacterial growth. Because of their relatively low cost, these valves are used by a number of food and beverage manufacturers for on-off applications.
Another type of valve used in lines with direct food contact is the safety valve. There are simple safety valves and double-seat valves, of which this one is used for on-off and control applications. Most often, mix-proof valves are used in the dairy industry to ensure the non-contamination of process fluids These valves can handle highly viscous products, especially those in the dairy industry, and have capabilities of Effective IPCs.
The integration of these valves with automated systems will likely also be required as production systems evolve to meet the sophistication levels of future manufacturing facilities.