Sanitary ball valves are used in a variety of applications where high pressure prevails. These valves are popular for two main reasons. On the one hand, they allow an unrestricted flow, which does not allow material restrictions through the valve. Second, the valve can also be serviced without completely removing the valve from its fitted position. This is due to its three-piece construction, which allows minimal removal of screws during maintenance. Some designs consist of two-way valves while others are three-way valves.
Two-way ball valves are made of stainless steel. Their seat design makes it easy to remove. The clamps and welds in these valves are of a standard design. These valves are available in different sizes and specifications. Three-way valves are available in several versions. This includes versions that can be operated manually, electrically or pneumatically. There are also a number of options that allow you to control your equipment. These include limit switches, positioners, and solenoids. These are basic options that are available in the automated version. Depending on customer requirements, other connections can be installed. The seat designs of the valves can be easily removed. This allows easy maintenance and thorough cleaning options.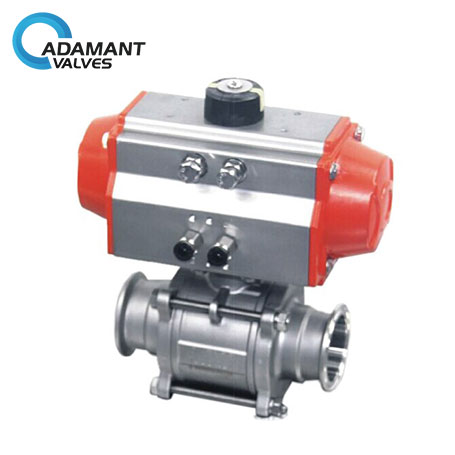 Sanitary ball valves are commonly used in industrial and sanitary applications. They are essential to prevent the return of products. The design of these valves allows them to handle the full flow of product in the processing phase. To prevent backflow, the ball rolls back at its inlet when product flow ceases. The design also allows them to increase the pressure that supports the case by creating a positive shutdown. This makes them useful for liquid products. The equipment is available with two valves in addition to the clamp and weld ends. Depending on the requirements of the customer, other connections may be provided.